Center for Latino Studies
Promoting Understanding of the Latino Experience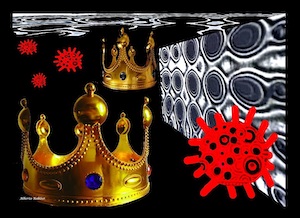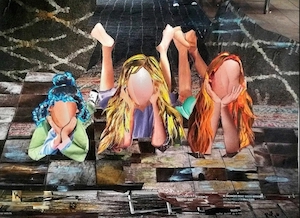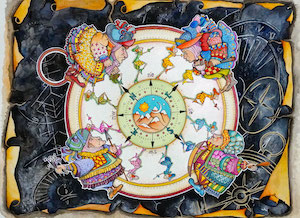 The Center creates an intellectual and physical space in which scholars, local leaders, students, and the wider community can engage in research, cultural exploration, and dialogue about the Latino community's contributions and experiences. In keeping with Queens' commitment to community engagement, the Center also engages in community projects that support the broader Latino population.
Arte Latino Now
Sponsored by The Center for Latino Studies at Queens University of Charlotte in partnership with artist Edwin Gil, Queens' Department of World Languages, and the Department of Art, Design and Music, Arte Latino Now is an annual art exhibition that seeks to highlight the exciting cultural and artistic contributions of Latinos in the United States. We invite artists who self-define as Latino/a/x and live and work in the United States to submit an original creative work in their medium of choice. Originally, winners were exhibited at Queens University of Charlotte in this annual exhibition. Beginning in 2021, the exhibition has a virtual platform, thus affording a wider exposure for participating artists. Check out art from Latinos around the nation on the Arte Latino Now Facebook page. We also hope you enjoy the ARTE LATINO NOW 2021 Exhibition, Performance and Readings.
Arte Latino Now: Student Projects
Meet the Latino/a/x artists, writers and performers who are living and working in the United States, shaping culture, and furthering the arts with Arte Latino Now. This initiative by the Center for Latino Studies is a product of independent student research in which they independently interview Latino/a/x artists, writers and performers about their life and work.
Label Me Latino
Label Me Latina/o is an online, refereed international e-journal that focuses on Latina/o/x Literary Production in the 20th and 21st centuries co-edited by Dr. Michele Shaul (Queens University of Charlotte) and Dr. Kathryn Quinn-Sánchez (Georgian Court University). The journal invites scholarly essays focusing on these writers for its biannual publication. Label Me Latina/o also publishes creative literary pieces whose authors self-define as Latina, Latino or Latinx regardless of thematic content. Interviews of Latino, Latina or Latinx authors will also be considered. Label Me Latina/o is indexed by the MLA International Bibliography, is listed in the MLA Directory of Periodicals and is a member of Latinoamericana: Asociación de revistas académicas en Humanidades y Ciencias Sociales. Our articles are discoverable on EBSCOhost research databases. ISSN 2333-4584. Look at some of the work at Label Me Latina/o.
Queens University of Charlotte, NC, Offers Virtual ARTE LATINO NOW 2021, Carolina Arts, May 2021.

Arte Latino Now – Exhibición Nacional, Hola Cultura, June 21, 2021

Men Interested in their own Aggrandizement, "On Reincarnation" by Michele Shaul, Somos en escrito, 1/2/2022

Poems by Anita Cantillo, Shawn Bowers

Had an Honest Friend Been in the Delivery Room When I was Born by Anita Cantillo, Shawn Bowers, Page 43

7th Annual El Quixote Festival - Voces | Voices [Tertulia with Queens University of Charlotte]
Additional Programs
Learn more about our Minor in Latin American and Latino Studies.
Contact Us
Dr. Michele Shaul
Center for Latino Studies
shaulm@queens.edu