Best-selling Author Chuck Wendig '98 Says It's About More Than Writing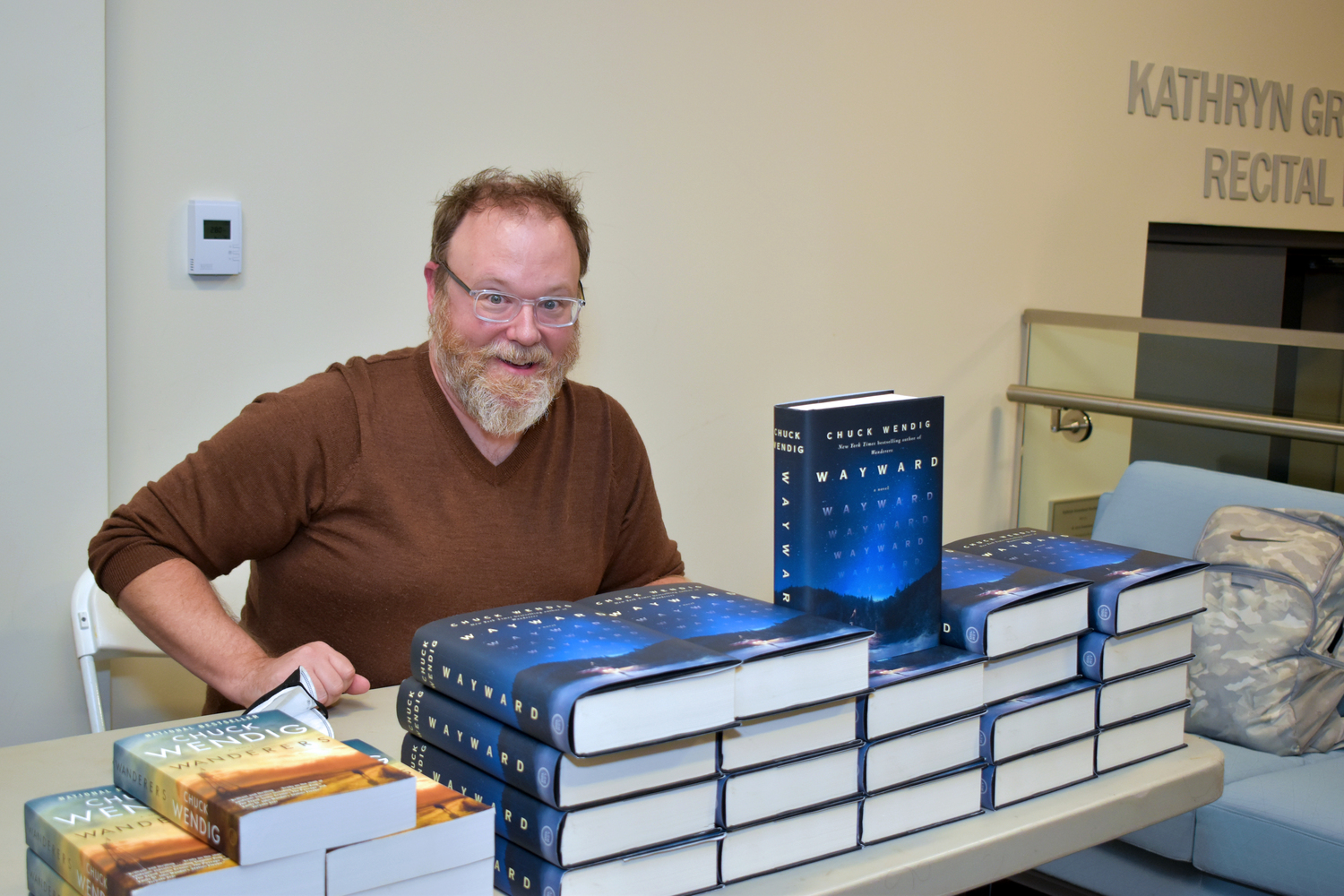 by Keith Pierce
The mood was out-of-this-world in the Sarah Belk Gambrell Center for the Arts and Civic Engagement as anxious guests anticipated a talk by acclaimed author and Queens University alum Chuck Wendig '98.
Wendig is the New York Times and USA Today bestselling author of "Star Wars: Aftermath," "The Book of Accidents," and more than two dozen other books for adults and young adults. The horror novelist impressed a captivated crowd with a funny and engaging talk about everything from the art of writing to celebrity encounters.
"Write what makes you happy," Wendig said to the crowd of fans. "When I hit bottom and decided to write about the thing that made me happy without worrying about whether it could or should or even would sell, I started to figure out my voice. As you release some of the pressure on yourself and allow yourself to write more freely, without the burden of expectation, you will find that your voice has been there all along."
In "Aftermath," Wendig introduced the characters Gallius Rax and Marshal Cobb Vanth, the latter of which appeared in the Disney+ series "The Mandalorian and The Book of Boba Fett." His latest book, "Wayward," that released this week as a sequel to "Wanderers," is an apocalyptic story that combines societal anxieties with everything from climate change and artificial intelligence to social media and political turmoil.
In an on-air interview with WFAE's Charlotte Talks, Wendig talked about his Queens experience.
"Queens certainly influenced my writing. It allowed me to take it seriously," he said. "My Queens education, particularly Dr. Michael Kobre, was a great marriage of the literary side of writing – the art of it – and the craft side of writing – the practice of it.
"He [Kobre] never shied away from pop culture either. I feel like that's a really important balance because if you're going to be a writer in the modern day, classical education and literature is not necessarily the thing that is going to save you. All that's going to save you is writing and writing well. I feel like Queens taught me and took it seriously that I was able to come out of there with both the craft-level understanding of what I was doing and an appreciation for that more esoteric art-level side of it."
Wendig, a finalist for the Astounding Award and an alum of the Sundance Screenwriters Lab, is known for his popular blog Terribleminds and books about writing such as Damn Fine Story. The Bucks County, Pennsylvania native has also written for video games, film and television as well as comics for Dark Circle Comics, Dynamite Entertainment, Marvel Comics, and VS Comics.
After his talk, Wendig was asked during a Q & A about his celebrity fans. He talked about his friendship with Lin Manuel Miranda and his being asked by his idol, Margaret Atwood, to attend her birthday celebration in New York where she invites writers to speak about writing. He also gushed over his awkward encounter with English author, Neil Gaiman.
The evening ended as fans lined up for book signings and spirited conversations with the author.