Interior Architecture & Design
Interior Architecture & Design
What You'll Study
Are you interested in developing the feel and aesthetic of a room, but also curious about designing the space itself? In the interior architecture and design (IAD) program at Queens, you can do both! We've combined both skill sets into one major, and it's the only program of its kind in North Carolina.
The IAD program has a two-part goal for you: 1) to inspire thoughtful, empathic, and creative design and 2) to teach you how to enrich the lives of others by developing unique and meaningful spaces that bring value to society.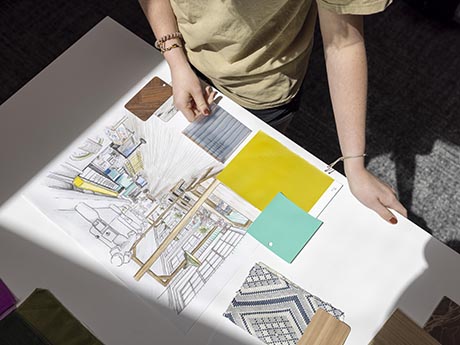 At Queens, faculty will challenge you to combine design knowledge with a foundation of critical thinking, creative problem-solving, technical ability, effective communication, and more. IAD faculty are also passionate about connecting you to real-world experiences and professional networks including opportunities to work with local design firms and practitioners and to attend national conferences. 
Student Work
Get a sense of the projects you'll pursue to help you elevate your design skills from your very first year where you experiment with form and light all the way to the capstone project you will complete in your senior year.
How Can You Use This Degree?
You will graduate from Queens with the skill set you need to enter the design-build industry as an interior specialist, pursue further credentials, or seek advanced study. Here are a few of the many sectors our graduates go on to work in:
Specific market sector design such as workplace design, education design, and institutional design
Consulting
Facility planning
Project management
Manufacturing
Showroom or sales management
Visual merchandizing
Exhibit design
Lighting design
Highlighted Courses
Fundamentals of Interior Architecture and Design (IAD 111)
Human Environments (IAD 241)
Environmental Ergonomics 1 (IAD 332)
Design in Context (IAD 361)
Program Contact
Siu Challons-Lipton, D.Phil.
Executive Director, Department of Art, Design and Music
Carolyn G. and Sam H. McMahon Professor of Art History
Noble Faculty Fellow 
Distinguished Faculty Fellow
liptonsc@queens.edu
704-337-2286
Meet Your Professors
Accreditation
The interior architecture and design program leading to the Bachelor of Arts is accredited by the Council for Interior Design Accreditation, www.accredit-id.org, 206 Grandville Avenue, Suite 350, Grand Rapids, MI, 49503.
The CIDA-accredited program prepares students for entry-level interior design practice, for advanced study, and to apply for membership in professional interior design organizations. The Bachelor of Arts in Interior Architecture and Design, granted by Queens University of Charlotte meets the educational requirement for eligibility to sit for the National Council for Interior Design Qualification Examination (NCIDQ Exam). For more information about NCIDQ Exam eligibility visit the CDQ website.