Pulliam Center for International Education
Pulliam Center for International Education
The Myrta Pulliam Center for International Education (PCIE) provides meaningful study abroad experiences for Queens students and supports our international student needs through a variety of programs and services. By providing students with firsthand international and cross-cultural experiences, we strive to broaden their perspectives and cultivate global citizens.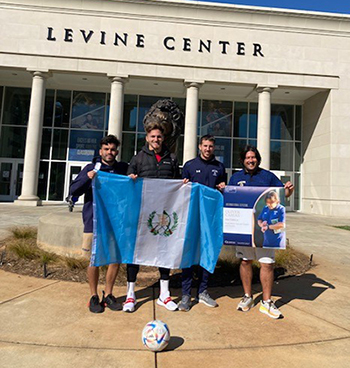 International Student Services
Our international students bring incredible diversity and perspective to our Queens campus. ISS supports international students in achieving their educational, professional, and personal goals. In other words, we help with immigration and visa matters, work permission, orientation, cultural adjustment, and advising.
John Belk International Program
There's no better way to bring the classroom to life than studying abroad. Through these experiences, you'll gain a rich understanding of the world by being immersed in arts, sciences, and culture from across the globe. JBIP is in the business of building global citizens.
Global Events & Programs
The world comes to Queens through a variety of activities and events annually. Each year, the Pulliam Center hosts events such as International Education Week, International Student Orientation, Study Abroad events, and International Women's Day celebrations, to name a few.
Meet the Team
We're a team of dedicated international educators who believe that international experiences and exchanges can transform lives. Get to know us!
Contact Us
PCIE, ISS, and JBIP are located in Knight-Crane Hall, Suite 103. Or you can contact us (international@queens.edu, 704-337-2533).