Hispanic Heritage Month | Karole Pelcastre Avilez '25
Oct 15, 2023
By Queens University Communications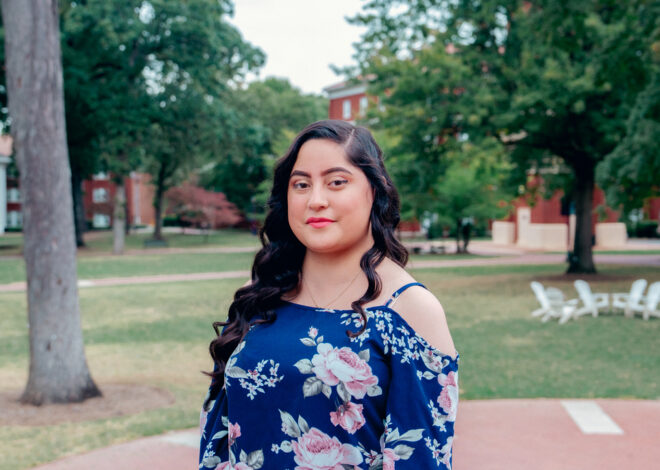 Karole Pelcastre Avilez '25 moved to North Carolina from Mexico at the age of five. The support of her parents and teachers helped her excel in school—a place where she learned to speak English and fostered a deep appreciation for education. Pelcastre Avilez's passion for nursing was ignited by witnessing the birth of her younger sister. She was inspired as she watched the labor and delivery nurses during her mother's time at the hospital. Amidst the birth of her younger sister, Pelcastre Avilez's own dreams of becoming a nurse were born. This fall, the junior nursing major and Golden Door Scholar started clinicals where she will learn how to put her knowledge into practice at a local hospital. As she moves one step closer to turning her dreams into a reality, she leans into her faith, familial support, and the community she has grown to love at Queens University of Charlotte.
The college application process was riddled with uncertainty and was overwhelming for Pelcastre Avilez. As a first-generation college student, she invested her time and energy into applying for as many scholarships as possible to make furthering her education more feasible from a financial standpoint. When she felt a wave of doubt creeping in, she received wisdom from a respected source that gave her some much-needed endurance to carry on in her pursuit.
"One day, my mom said to me 'Karole, I would give you my life and everything I have, but some things are out of my hands. You have a choice – you can sit there and cry or you can wipe your tears and fight for a door to open,'" Pelcastre Avilez recounted. "So that is what I did. I fought for new opportunities and sure enough, my teacher was able to direct me to a new opportunity that would allow me to take classes at a community college. I credit God with opening the door to such wonderful opportunities in my life and giving me the endurance to keep going.
The classes she took at Guilford Technical Community College laid a foundation for her nursing degree at Queens. She was able to transfer to Queens thanks to a generous scholarship from the Golden Door Scholars program and worked as a reporter for La Noticia, an independent news organization that produces stories about issues affecting the Latinx community in Spanish.
"Working as a reporter was very challenging. It stretched me to grow as a student and journalist," said Pelcastre Avilez. "I started writing stories about the Latinx community and the challenges they faced, and I quickly began to love reporting. Now, at Queens, I have a minor in professional writing and rhetoric."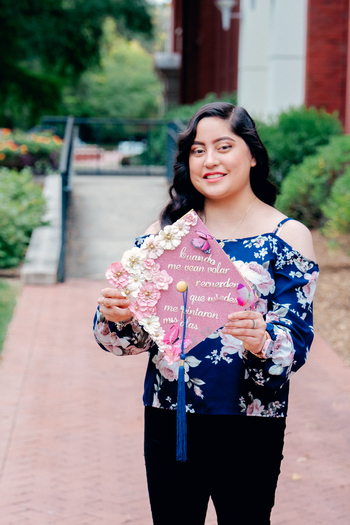 At her high school graduation, Pelcastre Avilez decorated her cap with a Spanish phrase that can be translated to "when you see me fly, remember you painted my wings." She explains that the symbolism of a butterfly resonates with her deep-rooted appreciation for the sacrifices of her family and her posture of gratitude towards God for all that she has.
As a Royal, Pelcastre Avilez has taken part in the Emerging Leaders program and was also featured on the Dean's list her first year at Queens. She embraces her faith as a Christian by serving as a student leader in Reformed University Fellowship (RUF). The Queens motto, "not to be served, but to serve," stems from Matthew 28:20 and resonates deeply with Pelcastre Avilez.
After graduating in 2025, she hopes to leverage her Queens education by becoming a neo-natal nurse, caring for a vulnerable population that relies on specialized care.