Queens Celebrates its Debut on the Big Screen in "The Other Zoey" 
Nov 15, 2023
By Queens University Communications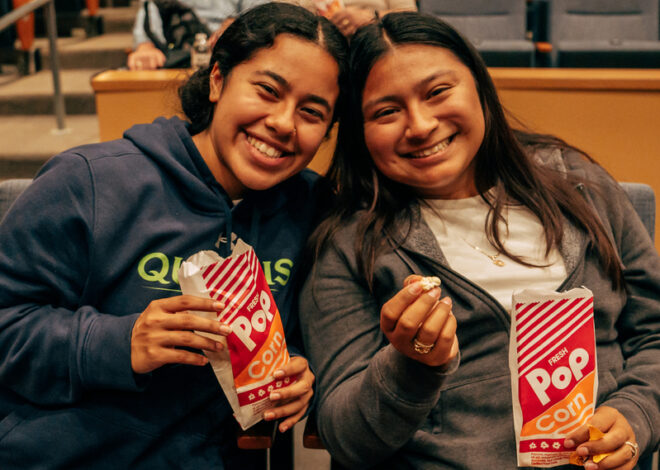 On Nov. 9, The Sarah Belk Gambrell Center for the Arts and Civic Engagement opened its doors to nearly 400 students, faculty, alumni, and community members for the official campus premiere of "The Other Zoey." The movie was filmed on campus from late Dec. 2021 to mid-Jan. 2022 and features actors Josephine Langford, Drew Starkey, and Archie Renaux. The teen rom-com focuses on fictional Queens students Zoey Miller, a computer major who thinks she has love all figured out, and Zach McLaren, a popular Queens soccer player.  
To set the scene for the premiere, attendees enjoyed a performance by the Queens University Dance Team and participated in activities coordinated by Student Engagement. Rex and the Admissions team welcomed visitors and prospective students while newly branded merch was sold by the Queens Bookstore. Movie-goers grabbed complimentary popcorn and headed into the show where they were greeted with a surprise welcome by the movie's producer, Bill Bindley, of Gulfstream Pictures.
"We thought Queens had the perfect look for the film," said Bindley. "It had exactly what we were looking for – an idyllic college campus with classic bold red bricks and mature landscaping."
Bindley reminisced about his time on campus and shared entertaining stories about the unexpected surprises of filming during the midst of the COVID-19 pandemic. Ultimately, he expressed his pride in the success of "The Other Zoey," which held the #1 spot on international streaming platforms. Bindley and his team look forward to returning to Charlotte for future projects. "Depending on how well the film does, there may even be talk of a sequel!" he said.
Queens University Dance Team member Madison Pavlovsky '24 was a sophomore at Queens when her friend shared a casting call to be an extra. "As soon as we saw it, we were like 'Yeah, let's do it!'" she said. "Friends and family have been texting to tell me that they saw me. It was such a cool experience to be a part of!"
Students cheered each time they saw Queens depicted throughout the movie. From classroom shots and actors in QUC gear, to sweeping aerial footage of our campus buildings, Queens lit up the screen as the main character of "The Other Zoey."
"It's always exciting to see Queens University up on the big screen," said Laura Kratt, executive director of the Gambrell Center. "This was a great opportunity for us to gather together on campus with the Queens community and the broader Charlotte community and enjoy a great story and good film making."
Over the past two years the Gambrell Center has hosted several high-profile events including the Arts at Queens Spotlight Series and speaking engagements through the Learning Society. "Our goal is to be a convener and a place where we can bring together different communities to enjoy these wonderful art experiences whether they are films, music, dance or theatre," said Kratt. "We want to offer these different activities so that the whole community can enjoy all that Queens has to offer."
The Gambrell Center has a robust calendar of events planned throughout the year. To learn more about upcoming events visit the Arts at Queens website.