Ally Financial and Lowe's Honored for Investing in Queens' Innovative Vision
Oct 26, 2023
By Queens University Communications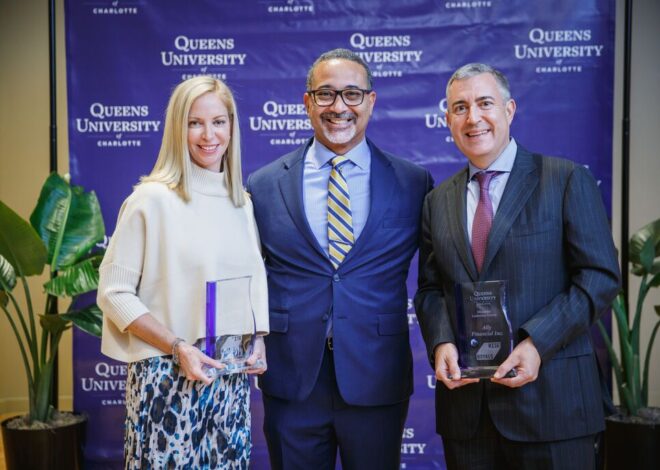 Queens University of Charlotte recently welcomed Ally Financial Inc. and Lowe's Companies, Inc. into its Ministrare Leadership Society, a prestigious group reserved for the university's most generous benefactors. These organizations and individuals have contributed significantly to Queens' mission of transforming lives through education, with donations exceeding one million dollars each.
Ally Financial and Lowe's multi-million-dollar investments in Queens University enabled the creation of the Charlotte Talent Initiative (CTI). This program aims to promote economic mobility for driven and talented individuals, regardless of their socioeconomic background, while also serving as a talent pipeline for regional employers.
CTI participants are carefully selected through a competitive process and receive tailored academic programs, career guidance, and comprehensive support to maximize their potential, expand their opportunities — all while placing students on a path towards economic mobility.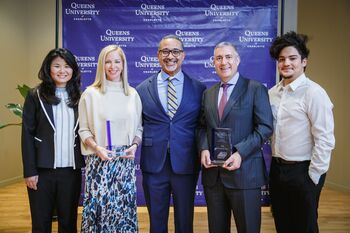 University President Dan Lugo remarked, "Ally Financial and Lowe's didn't just agree with the vision – they each stepped up to make our first cohorts a reality. Their gifts not only made a tangible impact on the launch of CTI, but also sent a powerful message to the city of Charlotte that together we could serve as an important catalyst for societal progress."
Queens is enthusiastic about the future of CTI and anticipates expanding its partnerships with other businesses and organizations in the Charlotte community.
Margi Vagell, senior vice president of Lowe's Companies, Inc., graciously accepted the honor on behalf of the company. In March 2022, Lowe's became the first partner in the innovative Charlotte Talent Initiative with a $2.5 million investment. Lowe's currently supports two cohorts: the first cohort began in fall 2022 as juniors, and the second cohort, consisting of first-year students, was launched this fall. These cohorts receive instruction, mentorship, and other professional opportunities focused on retail management.
"There is so much rich talent in our hometown," said Vagell. "We are super excited to be able to partner with a university that offers such a caring and helping hand with their students as they navigate their budding careers."
Jeff Brown, CEO of Ally Financial Inc., also accepted the honor on behalf of the company. In May 2022, Ally Financial committed $2 million to CTI with a focus on expanding the field of data analytics.
CTI students expressed their gratitude and shared how the significant contributions from Ally Financial and Lowe's have positively impacted their lives.
Skyler McNeely '24, an international studies major with minors in East Asian studies and Chinese, shared, "Being part of the first CTI cohort has had a tremendously positive impact on my educational experiences and pursuit of my goals. CTI has provided me with the opportunity to attend a great university, while also providing me with the opportunity to meet like–minded hard-working students. I have built great relationships with them and the CTI leaders."
Ally Financial and Lowes have been added to the permanent donor wall in Queens Hall that proudly displays the names of the members of the Ministrare Leadership Society.  "I can't help but think of the tremendous legacy and promise that these names have created," said Lugo. "If we have thought bigger, dreamed bolder, and reached higher, it is because of their impact."
(Photos by Tricia Coyne)