Health & Wellness Center
Your health and wellness is top of mind, so we've established a multi-year partnership with one of Charlotte's esteemed healthcare providers—Atrium Health. Together, we'll be able to offer point-of-care testing, acute care management, and virtual care and medication dispensing. In layman's terms: testing and treatment right there at the health center, without having to go to a lab – with the exception of virtual care, if you'd prefer telemedicine.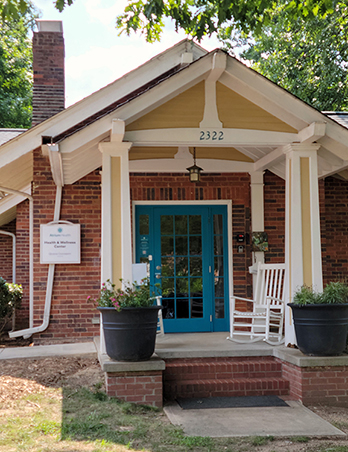 Services
Clinical Services
If you happen to get sick, get treated on campus – most of our services are free. We have appointments with a nurse Monday through Friday and doctor's appointments two days a week.
Health & Wellness Center
Monday – Friday from 8:00 a.m. – 5:00 p.m.
(Closed for lunch from 12:30-1:30 p.m.)
Appointments can be made 24/7 by calling 704-337-2220.
Walk-ins are welcome. Video visits and after-hours care are available.
Counseling Services
Your mental health and wellbeing are important for academic success and achieving your goals. The Counseling Center offers individual or group sessions with clinically trained licensed counselors who are here to help support you as you pursue personal growth and development. Individual private sessions are available for treating mental health conditions such as anxiety, depression, and stress. During the academic year, you can receive up to 10 individual counseling sessions per semester.
We offer counseling sessions Monday – Friday, 9 a.m. – 5 p.m. at Watkins Hall (1st floor) or virtually.
To schedule an appointment, please call (704-337-2556) or email us (QUCounseling@AtriumHealth.org). Virtual counseling is available.
Mental Health Crisis Help
If you are experiencing a mental health crisis during clinic hours, please report to the Health & Wellness Center. We have a crisis counselor on call. If it is after hours, please call the 24/7 crisis hotline (704-337-2556 or 911).
Health Promotion and Education
Personalized Health Coaching is available virtually to help improve areas such as sleep, nutrition, stress management, and more. You do not need a referral to take advantage of this service. To sign-up, please call (704-468-0132).
Preventive Care
If you need a test done, we've got your back. Your safety, health, and well-being comes first – so we're always willing to go that extra mile – literally. We'll travel directly to your dorms to administer flu shots, so you don't have to come to us.
The Sports Medicine Facilities
Atrium Health athletic trainers, two team physicians, a sports nutritionist (no more TikTok), and a real-life physical therapist.
Treatment Team
The center is staffed by a highly trained team. Our center will be staffed by a physician's assistant, a certified medical assistant and a registered nurse. Our counselors are specialized in the treatment of emerging adults, are all licensed and have master's degrees.
A Safe, Confidential Space
The center offers a safe space for students to come for information, counseling or treatment. Of course, services are HIPAA compliant and 100% confidential. This is a safe space for students to come, learn and get help.
About Atrium Health
Based in Charlotte, NC, Atrium Health offers a full spectrum of care to families and communities across North Carolina, South Carolina, Georgia and Alabama. It has more than 70,000 employees serving patients at 40 hospitals and more than 1,400 care locations, including an academic medical center, emergencies departments, urgent care centers, physician offices, behavioral health centers and laboratories.