Leading by Example
The 21st president of Queens, Daniel G. Lugo, is a distinguished higher education professional and inspirational leader known for innovative resource development. Lugo began his service as president of Queens University of Charlotte on July 1, 2019.
"In today's world, personal and professional achievement rarely has a straight trajectory," Lugo writes. "What is far more valuable is a mindset – a mindset that emphasizes flexibility, integrity, critical thinking skills, a strong work ethic, leadership, a global perspective, and an ability to respond quickly to both challenges and opportunities. At Queens, we nurture this mindset."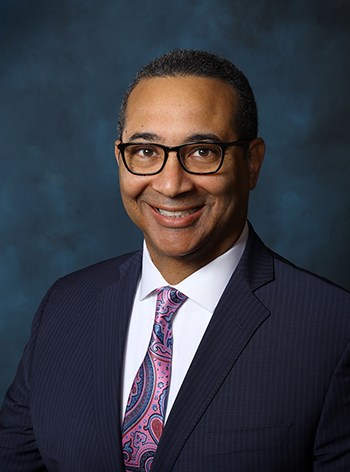 Biography
Daniel G. Lugo, J.D. began his service as the 21st president of Queens University of Charlotte on July 1, 2019. In his first two years, Lugo has focused the university's efforts and resources to leverage Queens' market position as the national private university of Charlotte. Lugo and the Queens Board of Trustees have developed, approved, and started to execute on an ambitious and integrated Strategic Framework which seeks national distinction for Queens as a university with:
Deep, meaningful, and reciprocal connections to the needs of the Charlotte community and economy;
Inventive and multidisciplinary academic programs that are connected to the world's most pressing challenges and biggest areas of opportunity;
A fully connected, integrated, and innovative set of experiences that support holistic wellness and well-being;
A culture of continuous improvement and investment that enables faculty and staff to flourish and achieve their full potential; and
A comprehensive approach to diversity, equity and inclusion that begins on campus and radiates throughout the community.
To meet the opportunities and challenges presented by the Strategic Framework and a fast-evolving higher education landscape, Lugo has successfully realigned and recruited an almost entirely new senior leadership team including elevating the work of student life and athletics from director to cabinet level status. While navigating the university through the myriad of challenges presented by the COVID-19 pandemic, Lugo has led efforts to strengthen Queens' outreach and enrollment efforts which has yielded a 15% increase in net tuition revenue in his first two years at the institution. He was nominated by university employees and selected in 2021 as one of Charlotte's Most Admired CEOs by the Charlotte Business Journal.
Prior to being named president of Queens, Lugo served in key leadership positions at three top ranked liberal arts institutions. These roles included vice president of college advancement at Colby College, vice president and dean of admission and financial aid at Franklin and Marshall College, and associate dean of admissions at Carleton College. As vice president for college advancement at Colby College in Waterville, Maine, Lugo orchestrated the strategy, launch and execution of a $750 million fundraising campaign, the largest of its kind for any liberal arts college in history. In the first two years of the campaign, Colby secured $415 million in philanthropic commitments including 40 gifts that exceeded $1 million.
In addition to overseeing Colby's fundraising, Lugo worked to strengthen the campus and alumni communities, both individually and collectively. He co-chaired the diversity, equity and inclusion task force, partnering with faculty members on Colby's inclusivity efforts. Lugo also initiated innovative technology and programmatic solutions for alumni to mentor current students and impact the student experience through philanthropy. These efforts led to Colby's top 10 national ranking in alumni participation.
At Franklin & Marshall, Lugo collaboratively developed a global talent strategy that led to a 45 percent increase in applications and yielded a more academically talented and diverse – socioeconomically, ethnically and geographically – incoming class. Earlier in his career, Lugo supervised the admissions process and enrollment marketing strategy, as well as helped to develop cultivation and solicitation strategies for leadership donors at Carleton College in Northfield, Minn.
A first-generation college graduate, Lugo strongly believes in the transformative power of education. He earned his bachelor of arts in political science from Carleton College, and his juris doctorate from the University of Minnesota School of Law, where he was an editor of The Journal of Law & Inequality. Prior to his career in higher education, Lugo was an intellectual property and entertainment attorney, representing national music artists. President Lugo models Queens' motto "non ministrari sed ministrare", "not to be served, but to serve", by actively serving on the boards of The New American Colleges and Universities (NACU), North Carolina Independent Colleges and Universities (NCICU), North Carolina Campus Compact, National Association of College Admission Counselors, (NACAC) and College Possible.