Center for Latino Studies
Center for Latino Studies
The Center for Latino Studies creates an intellectual and physical space in which scholars, local leaders, students and the wider community can engage in research, cultural exploration, and dialogue about the Latino/a/x community's contributions and experiences. In keeping with the Queens commitment to community engagement, the Center also engages in community projects that support the broader Latino/a/x population.
Arte Latino Now
Arte Latino Now is an annual art exhibition that seeks to highlight the exciting cultural and artistic contributions of Latinos in the United States. We invite artists who self-define as Latino/a/x and live and work in the United States to submit an original creative work in their medium of choice. The exhibit is sponsored by the Center for Latino Studies at Queens University of Charlotte in partnership with artist Edwin Gil, the Queens Department of World Languages and the Queens Department of Art, Design and Music.
In 2021, the exhibition was moved to a virtual platform, thus affording a wider exposure for participating artists.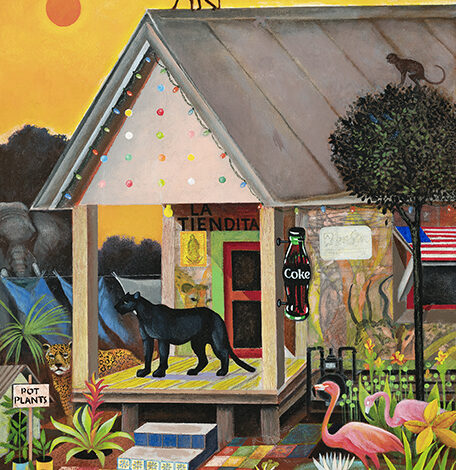 Check out all of the Latino artists from around the nation on the Arte Latino Now Facebook page. We also hope you enjoy the most recent Arte Latino Now Exhibition, Performance and Readings.
Arts Latino Now: Student Projects
This initiative by the Center for Latino Studies is the product of independent student research. In this research, they interview Latino/a/x artists, writers and performers about their lives and work.
Label Me Latina/o
Label Me Latina/o is an online, refereed international e-journal that focuses on Latina/o/x Literary Production in the 20th and 21st centuries co-edited by Dr. Michele Shaul (Queens University of Charlotte) and Dr. Melissa Birkhofer (Appalachian State University). The journal invites scholarly essays focusing on these writers for its biannual publication. Label Me Latina/o also publishes creative literary pieces whose authors self-define as Latina, Latino or Latinx regardless of thematic content. Interviews of Latino, Latina or Latinx authors will also be considered.
Label Me Latina/o is indexed by the MLA International Bibliography, is listed in the MLA Directory of Periodicals and is a member of Latinoamericana: Asociación de revistas académicas en Humanidades y Ciencias Sociales.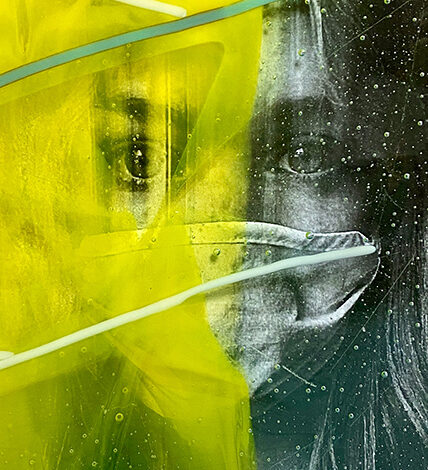 Our articles are discoverable on EBSCOhost and Gale research databases. ISSN 2333-4584. Look at some of the work at Label Me Latina/o.
Notable Works
Inseguridad alimentaria: ¿Qué es y cómo enfrentarla en Charlotte?, La Noticia. December 2022
Michele Shaul is awarded the 2023 Con A de Arte Award by the Latin American Coalition
Poems by Anita Cantillo, by Shawn Bowers, Juke Joint magazine.
Cómo un beneficiario de DACA inspira hoy a alumnos universitarios. La Noticia. October 2022.
7th Annual El Quixote Festival – Voces | Voices | – Tertulia with Queens University of Charlotte, March 2022.
Charlotte tiene un problema de acceso a otros idiomas, este plan busca solucionarlo, La Noticia. March 2022.
Representation Through Arte Latino Now, Queens College of Arts & Sciences Success Blog, February 2022.
Men Interested in their own Aggrandizement, "On Reincarnation" by Michele Shaul, Somos en escrito, January 2, 2022.
Arte Latino Now 2021: A Conversation with Artists and Musicians, August 2021.
Arte Latino Now – Exhibición Nacional, Hola Cultura, June 21, 2021.
Had an Honest Friend Been in the Delivery Room When I was Born by Anita Cantillo, by Shawn Bowers, Azahares 2020, Page 43.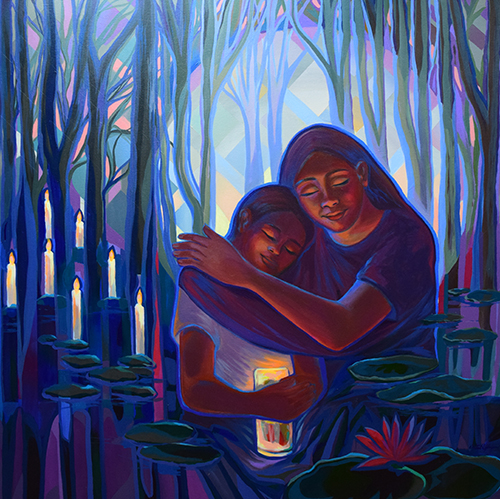 Additional Programs
Learn more about our Spanish and Multi-Language majors and minors or minor in Latin American and Latino Studies.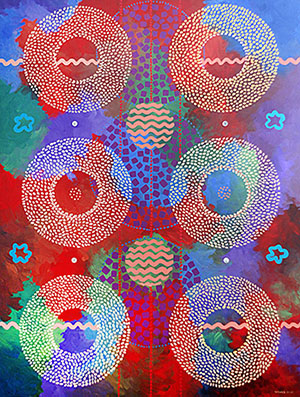 Photo Credits
La Tiendita by Jose Esquivel
Portrait Reflection #22 by Rosibel Ramirez
Sunspots by Nancy Nieves