Campus Traditions
Since our founding in 1857, Queens has acquired a variety of time-honored traditions. Some that are specific to Queens include the Moravian Love Feast, Boar's Head Banquet, Casino Night, and the Spring Carnival.
Eat well & enjoy medieval fun
Boar's Head Banquet & Yule Log Ceremony
Through the efforts of Miss Alma Edwards, a greatly beloved Latin professor at Queens University of Charlotte, Queens hosted the first Boar's Head dinner in 1932, which has remained an annual event since that time.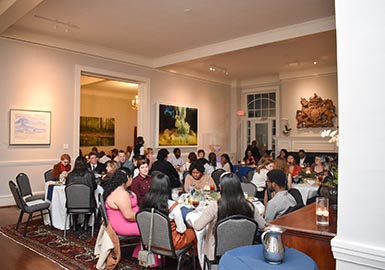 The annual feast is hosted by the Department of Student Engagement. At the end of the feast, students tap their holly branches on the yule log for good luck for the new year and then throw their holly branches into the fire and express their thankfulness for the past semester and year.
Dress up & show off your card skills
Casino Night
This exciting event on campus, organized by Campus Union Board (CUB), is arguably the most popular event of the year. It has been a student favorite since 1985. Students dress up in formal or themed attire and enjoy music, food, and dancing, all while they try their luck at casino games. There is a different theme each year.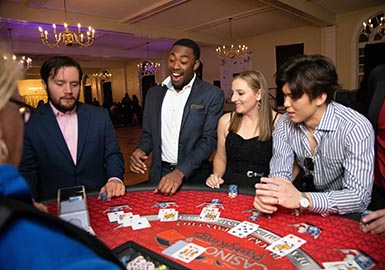 De-stress a bit before your exams
Exam Break Breakfast
Students enjoy late night bacon, eggs, grits, pastries, and pancakes cooked and served by their favorite professors and staff members as they take a break from studying. Come out for games and prizes and keep on the lookout for a possible guest appearance or two.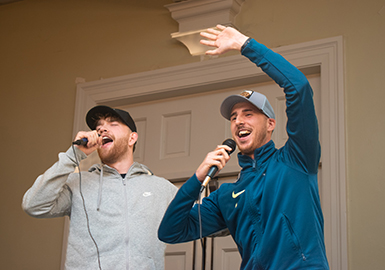 Give your parents the Queens experience
Family Weekend
Parents and families are invited to enjoy the Queens campus, meet faculty, staff and friends, enjoy sporting events, and take in special on-campus programs.
Cap off the best week of the year with a basketball game
Homecoming
Get your Queens spirit going the entire week of homecoming. Prior to the games, students, faculty, staff, and alumni celebrate with a tailgate bash. Homecoming Week ends with the homecoming games for men's and women's basketball.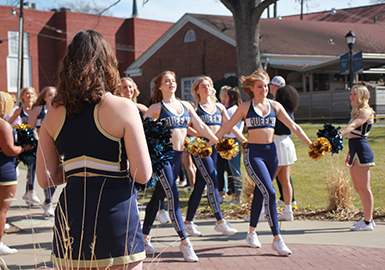 Take part in an annual day of service
Martin Luther King, Jr. Day
Sponsored by the Office of Diversity, Inclusion and Community Engagement, the MLK celebration is much more than a day of recognition. It is a day of education, celebration, and especially service. Faculty, staff, and students combine efforts and reach out to the community in service and education to honor the legacy of Dr. Martin Luther King, Jr. It is traditionally referred to as "a day on, not a day off" to affirm the Queens commitment to serve.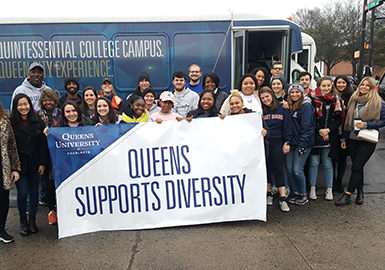 Celebrate the holiday season with the community
Moravian Love Feast & Tree Lighting Ceremony
Celebrate the beginning of the holiday season with a Moravian Fellowship service. Join the Queens community in Belk Chapel to share in traditional Moravian fare, a candle lighting ceremony, and carols.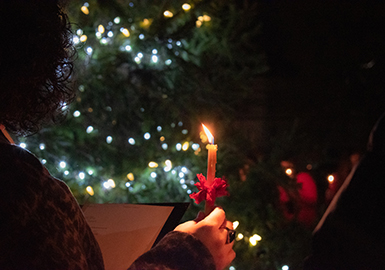 Rather than go to the carnival, let the carnival come to you
Spring Carnival
Celebrate the warmth of spring with classic carnival foods, inflatables, music, games, and prizes.